Refugee vs. Passion of Dolssa
Carmichael and Watts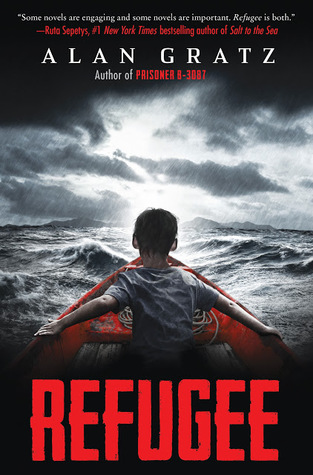 Overall, Lindsay and I don't believe either book should win Smackdown this year. We're hoping for better reads next round…
Lindsay and I can't lie, this was a tough decision because neither book cut it for us. When we went to Goodreads and saw that Refugee was the HIGHEST rated book on Goodreads...we were quite intrigued. But that excitement quickly gave way to confusion. How could this book be given a 4.6 rating!? Don't get us wrong we can see the "teachability" of the story, but the author's craft was lacking. The movement from character to character seemed more like a loss for where to go than purposely development of the plot. Due to the constant, quick, changes in point of view, there was an emotional disconnect. If it hadn't been a requirement, I would have put the book down. That said, there are incredible connections to the movement of people over time and how we should be viewing the mass emigration of people today. But that only was revealed, quite poorly, in the last few chapters of the book. It was not crafted like in Echo.
As for The Passion of Dolssa, I was quite nervous to pick this book up. I had read Julie Berry's All the Truth That's in Me and was put off by her writing. Having said that, we were both surprised that we didn't hate it. The book had superior character development and history than Refugee. Refugee takes for granted that the reader has knowledge of the time period. Which is why we don't think it's this incredible book that kids could pick up and read as easily as we think. Whereas, Berry creates an honest depiction of 13th Century France, with descriptions that explain why Dolssa is running from the Inquisitor. This book brought us in and made us care about the characters. The shift in character point of view was purposeful in this book, which made us care. That's what it comes down to, we didn't care in Refugee and we did in Passion of Dolssa.
Overall, Lindsay and I don't believe either book should win Smackdown this year. We're hoping for better reads next round... Despite our misgivings about
Refugee
, it has moved forward to the second round. Maybe it'll meet with stiffer competition next round and be booted. But if that Goodreads rating of
Reguee
says anything, we're in the minority.