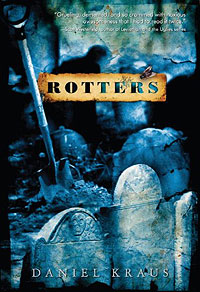 It have excuses, none very good, for being the last blogger of the group. In the time I've had to read I have been struggling with Rotters—wanted to skim to get the book finished but find that every time I did, I needed to go back and reread. It's too thick. It's too much. The images are too horrific. And yet—after a time, I found that they no longer had the power to knock me out. There were too many of them—the images that seemed to pile on each other obscuring the one before. And the point? What was he saying about art and music? That ultimately nothing creates meaning. I don't actually know. Not too sure that I care. But what a book.
Every Day hooked me at the beginning. I could hardly wait to get back to it. Then I got bored. Seemed like a treatise on stereotypes but of course dealt with in a humane and enlightened manner.
So my vote goes for Rotters. Though I often felt overwhelmed, I was never bored.
Zombie pick—Endangered A good story.